Sara started with us just last month through a self-funded programme at the Polytechnic University of Valencia to attract talented postdocs to research labs in the institution. She has written a post for our blog introducing herself and her work. Welcome to CBIT Sara!
Hello everyone! My name is Sara Trujillo and I have just joined the Centre for Biomaterials and Tissue Engineering in January this year (2021). Before arriving in Valencia I was working as a postdoc in the University of Glasgow (Scotland), where I also pursued a PhD in Biomedical Engineering.
Glasgow is the third most populous city in the United Kingdom and it has recently won the title of friendliest city in the world. This title goes hand in hand with the motto of the city "People Make Glasgow" because Glaswegians are always keen to help and up for a good laugh (and some pints). The University of Glasgow (where I worked), was established in 1451 and the main building is just stunning! Amongst the most notorious University of Glasgow alumni we find James Watt, Gerard Butler or Nicola Sturgeon. Glasgow is a great city to live in (despite the weather…), with many cultural activities happening all year round. Needless to say Scotland has many great worth visiting places if you like hiking, castles and wildlife (or you are a fan of the Harry Potter movies). I would definitely recommend you to add Glasgow to your to go list places after corona.
My research interests are quite broad, some would say. I am interested in the design and characterisation of new hydrogel biomaterials, in the study of cell-biomaterial interactions and the effect that the cells surroundings (both physical and biochemical) have on cell function. I am also interested in disease modelling and translational research.
During the time I spent in Glasgow I had the opportunity to work with hydrogels. Hydrogels are polymeric materials that contain high amounts of water and are a versatile tool in tissue engineering because they resemble the extracellular matrix in many ways. In particular I developed a synthetic hydrogel that includes a protein found in the extracellular matrix: fibronectin.
Fibronectin is an interesting protein. It is formed by different modules or motifs, and each of them has a distinctive function. One of the most studied is the region that contains a sequence for cell attachment (the RGD motif). Moreover, fibronectin contains also a region capable of binding growth factors, which are soluble proteins that initiate key cellular processes and induce major changes in cell function.
Growth factors are potent molecules very important in regenerative medicine because they alone can drive stem cell differentiation. For example, the growth factor called BMP-2 (bone morphogenetic protein-2) is able to dictate stem cells fate towards the osteoblastic lineage (and form bone). The problem with the use of growth factors in the clinic is that, to achieve regeneration, we have to use high amounts, and this can cause unwanted side effects. That is why we try to understand protein-material interactions and develop better biomaterials that work as carriers, to efficiently deliver safe doses of growth factors. This strategy works to maintain the strong regenerative effect desired without the unwanted side effects.
That was the main goal of my PhD, to develop a hydrogel carrier to effectively deliver growth factors at low doses. By using a synthetic hydrogel, we are able to control important physical aspects of the material, like its stiffness to mimic better the target tissue in a therapeutic or modelling application. With fibronectin as part of our material, with the full-length protein covalently linked to the gel polymer chains, we demonstrated that the hydrogels are able to sequester growth factors and present them to cells in a biomimetic manner. Finally, we were able to prove in vivo that this system successfully regenerated a non-union bone fracture in mice by loading very low amounts of BMP-2 into the hydrogel.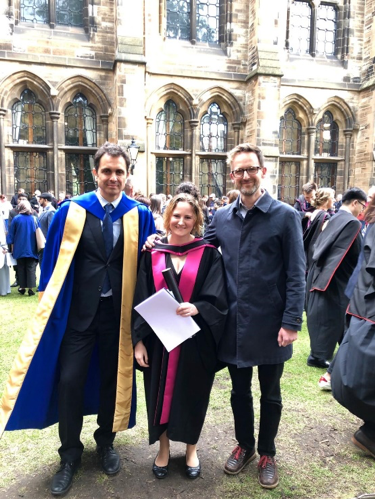 This work has been recently published as a scientific paper in the journal Biomaterials:
Engineered 3D hydrogels with full-length fibronectin that sequester and present growth factors. Sara Trujillo, Cristina Gonzalez-Garcia, Patricia Rico, Andrew Reid, James Windmill, Matthew J.Dalby, Manuel Salmeron-Sanchez. Biomaterials, Volume 252, September 2020, 120104. https://doi.org/10.1016/j.biomaterials.2020.120104